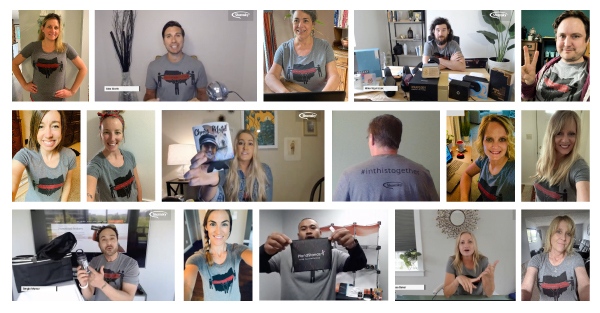 Let's Band Together Case Study
The Challenge
As the U.S. works through the hardships brought by the global pandemic and Coronavirus, many businesses are doing everything they can to keep their employees healthy and safe. In March, we were able to pivot our existing supply chain to support businesses doing so and provide them quality and compliant Personal Protective Equipment (PPE) from a trusted source. In addition to shifting to providing PPE, we wanted to come up with other creative solutions and a way for businesses to show their support for fighting against the virus. What started as a single idea during a brainstorming session has evolved into much much more. In times of uncertainty, we want to promote unity because truly, we are in this together and in order to get through it, we need to fight the same fight.
The Solution
Shumsky's creative team designed an exclusive t-shirt and silicone bands displaying 'Let's Band Together to Win this Fight'. Items were available in any color and customized to complement a logo or state, if desired by our customers. Proceeds of the sales went to the Dayton Foundation, a community foundation dedicated to helping Dayton and others around the world.
After launching the products linked to a charitable cause– we took the Let's Band Together theme and ran with it. Shumsky usually has one to two in-person events each year; ShumskyFest and Shumsky Style. This is where we invite our suppliers to interact with our customers and showcase new and trending products. In the best interest of our customers, suppliers, employees and community members, we did not host our annual events this year. Instead, we moved our events from in-person to virtual (if you're new to hosting virtual events never fear… Shumsky is here! Check out our blog on How to Transition from In-Person to Virtual Events).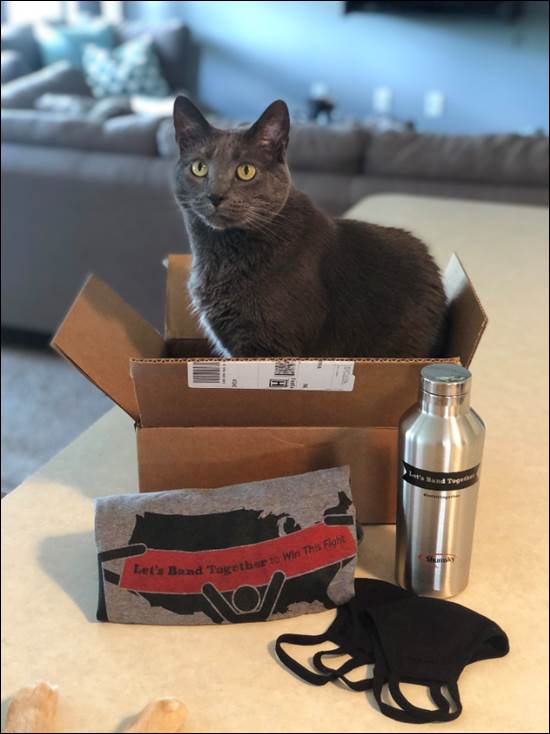 On June 18th, we hosted our Let's Band Together Virtual Event, where we invited our customers and other industry professionals to join us virtually to discover the biggest trends, newest products, and most innovative ideas they can use to successfully market their brand. With many companies currently having a distributed workforce and many remote teams; companies are looking for ways to keep their employees engaged. Attendees learned new strategies to drive stronger employee engagement, and get their employees and customers excited. For every individual who attended, Shumsky partnered with a leading promotional product supplier, HPG Brands, to donate face masks to a local charity on their behalf. All attendees also received a custom-designed Let's Band Together T-shirt, tumbler, and face masks to thank them for their attendance. 
We received a 4.8 / 5 star rating after the event and look forward to future virtual events where we can educate our clients on ways to engage their employees and market their brand.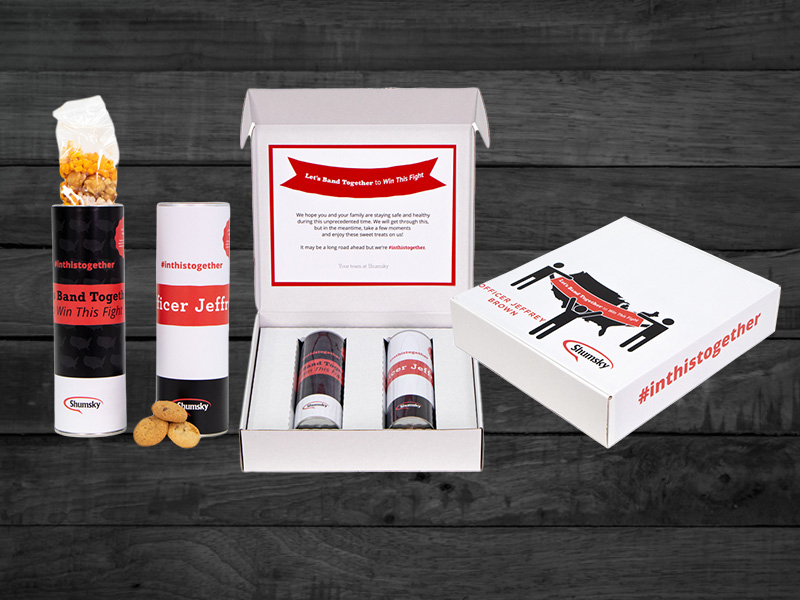 In addition to the Dayton Foundation partnership and virtual event, we also designed and developed a Let's Band Together gift box mailer delivered to a select group of customers. Inside, we inserted an appreciation message and provided some treats to enjoy at home with their families.
We've been building and supplying online company stores for over 25 years. As a trusted partner, our clients come to us looking for creative solutions to help deliver and connect their brand. So, when you're ready to kick start your next project, let us show you what we do best.