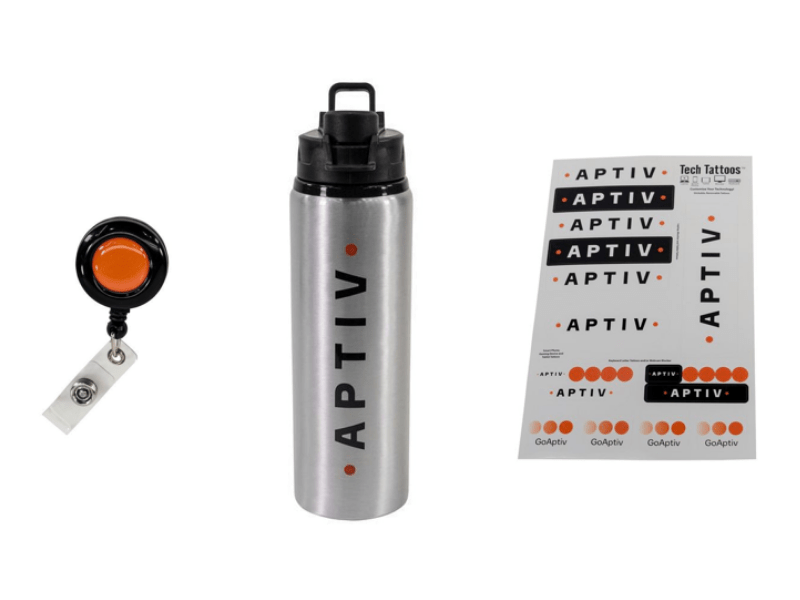 What better validation for the quality of Shumky's services, capabilities, resources, and service levels can be higher than receiving our global client's "Supplier of the Year" recognition?
The Need
Beyond the hundreds of "normal" projects we have managed for Aptiv and Delphi Technologies, this coveted award reflects complex branding with newly implemented logos/PMS colors and the logistics and communication involved in shipping to 152,000 employees in 145 countries with a deadline delivery.
Delphi, a multi-billion dollar organization, implemented a brand change while concurrently spinning-off part of their workforce into a separate division. Shumsky managed the development, merchandising and on-time delivery for their two new brands: Delphi Technologies and Aptiv.
The Solution
Delphi Technologies is an industry-leading automotive brand, while the new Aptiv brand reflects a tech-savvy Silicon Valley style. With the PMS colors and logo still in development, the Aptiv Marketing Team's plan called for a "Day 1" kit of three products to be delivered to every employee within five weeks. "Day 1" was the launch for the new name.
The Results
While performing this complex scenario, Shumsky was also managing the staff and customer merchandise selection and production for the Consumer Electronics Show, the first follow-up event after the relaunch for both companies. The new brands were on display for the first time at the world's largest trade show with 184,000 people.
Whether providing creativity, managing multiple brands simultaneously, on-time delivery for a day-specific event, kit-packing, international shipping, trade show solutions, Shumsky has the staff, resources, know-how and commitment to deliver on our promises and the promises of our clients.