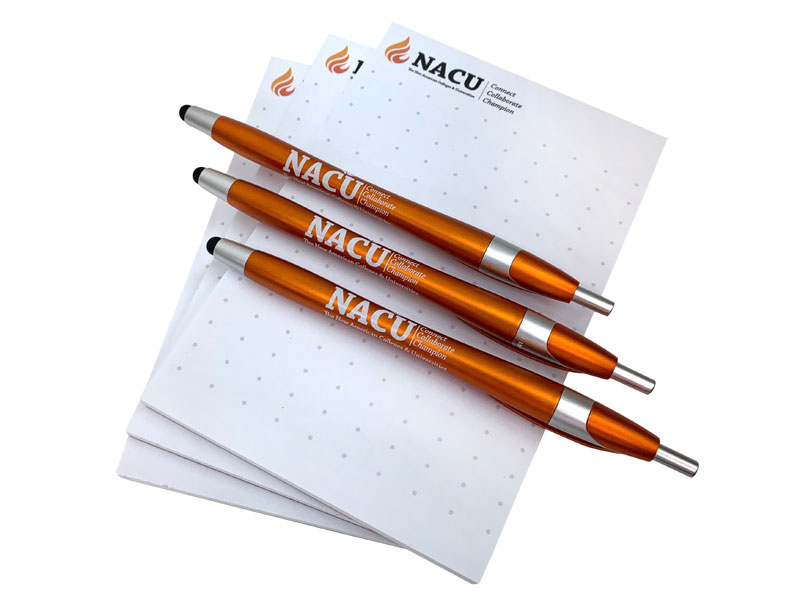 Shumsky helps nonprofit find an effective and affordable way of sharing their new and improved brand with their members.
The Need
Our client, the New American Colleges and Universities (NACU), a national nonprofit higher-ed consortium dedicated to improving the quality and effectiveness of teaching and learning among its campuses, was looking for a common and utilitarian item to help launch its new brand at a major higher education conference, American Association of Colleges and Universities (AACU), held annually in Washington, DC at the Marriot Marquis. Following the recent rebrand of the organization's logo, the giveaway needed to showcase the organization's new brand effectively while remaining relatively inexpensive.
The Solution
NACU president, Sean Creighton, called seeking advice on the most common items in the office world: the pen and pad. Working closely with NACU, our creative team understood their needs and financial constraints of the nonprofit industry and supported them in finding a quality, affordable pen and pad combo for their event.
The Results
Hundreds of higher-ed leaders from across the nation walked away with a renewed sense of NACU's look and brand. More so, we helped capture NACU's commitment to "connect, collaborate, and "champion" their 20+ campuses.
So, when you're ready to kick start your next project, let us show you what we do best.