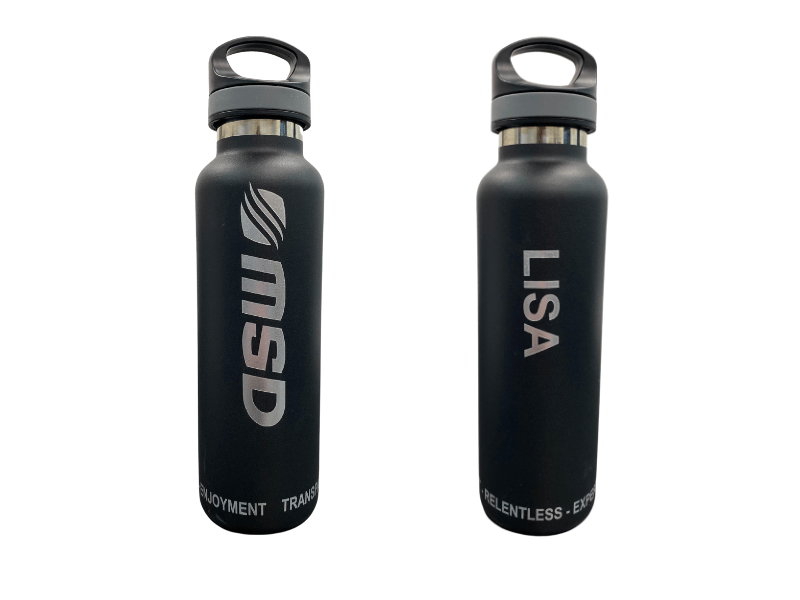 The Need
The leading expert for all commercial and industrial drain problems and the second-largest Dayton-area mechanical contractor, Mechanical Systems of Dayton (MSD), came to us looking for a way to present their new core values to their employees that included a unique way to give back.
The Solution
We selected a stylish and practical piece of drinkware from Basecamp®, with a portion of the proceeds donated to Warrior Spirit Retreat, where wounded warriors learn to heal. Each piece of drinkware was engraved with the MSD logo, the employee name and their four new core values. We kitted each piece with a special note, wrapped tissue paper with the colors of their brand. We delivered the kits to over 100+ employees at their homes.
The Results
The company initiative was a great success. Using our trusted supplier network, we completed this important project in less than two weeks. Not only were we able to complete the project in time, but we also came in under the initial budget. MSD was delighted with the end result and the unique approach to communicating its new core values.
We've been providing creative solutions for more than 65 years. As a trusted partner, our clients come to us looking for creative solutions to drive brand engagement. So, when you're ready to kick start your next project, let us show you what we do best.
About Mechanical Systems of Dayton (MSD): MSD was founded in 1984, and continues to be a privately-owned business built on a reputation of quality work, service, and integrity. Their company headquarters are in Dayton, Ohio, with mechanical systems experts in Dayton, Columbus, and Cincinnati OH. They offer a range of mechanical services and are capable of handling everything from small repairs to large-scale construction projects.