4 Steps to Host a Brand Reactivation or Rebrand Event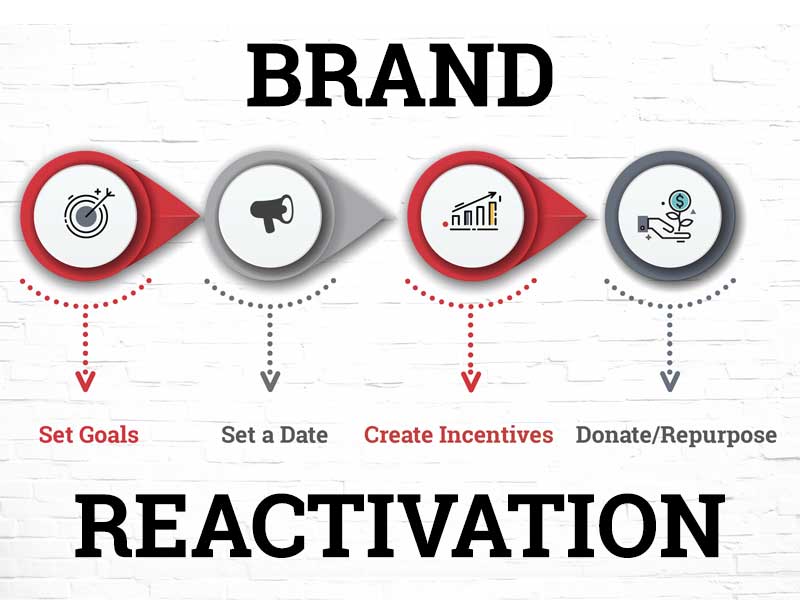 Are you a business going through a strategic rebrand or interested in exploring a potential rebrand? If you're looking for ways to drive brand awareness, streamline your brand relaunch, or guide your employees to be brand ambassadors, check out our approach.
If your company is in the process of a rebrand or logo update, you may be wondering how to generate excitement internally while transitioning from your old logo. While some companies don't mind if their old brand sticks around, others may opt to wipe it out completely, which requires a brand reactivation plan and strategy.
Set Goals: Develop three goals for your brand reactivation initiative, i.e., drive rebrand awareness, sell $X of new branded merchandise or identify a certain amount of old promotional products to donate to local charities.
Set a Date: Determine an on-site event date that works well for your employee base and when most of your staff will be in the office. Then, promote it early! Consider an extended lunch time promotion in a general meeting area so it can't be missed.
Create Incentives: Why should employees participate? Consider an incentive or discount to trade-in old logoed merchandise. Create physical coupons (i.e., "Company Bucks") or assign a point value they can redeem at the on-site event. For remote employees, create a temporary online store or pop-up shop where they can redeem for certain new promotional products.
Donate/Repurpose: After your event, partner with Shumsky to repurpose, recycle or destroy goods with old logo. Consider organizations such as schools, faith-based organizations or charities that would benefit from donations.
Rebranding isn't a process that happens overnight. Rebranding takes time, resources and clear communication (we're no stranger to it ourselves, see here: https://bit.ly/2qs3mTk). Let us be your guide for your rebranding strategy, taking you on a full circle Engagement Journey™ to drive home your new brand.
Interested in learning more? Complete our Kickstart a Project form.