NEW EXCLUSIVE OFFERING — We now have the popular retail TILE available for branding!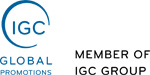 Shumsky Promotional is an internationally recognized market leader in made-to-order promotional products, promotional technology solutions, importing, product fulfillment and distribution, and creative product ideation.  For 60 years, Shumsky has built and earned a reputation of trust through delivering superior service, quality brand messaging, and award winning creativity in promotional marketing.
Promotional products and apparel represent your brand, inspire loyalty, enhance awareness, and ultimately require ROI. So it comes as no surprise that high quality items, dependable customer service, and value for your money are critical when selecting your promotional marketing partner.
We are celebrating 60 years of experience with driving brand awareness through the promotional medium, continuing to grow strong relationships through trust with the industry's top suppliers, and developing efficient processes to deliver every time! Additionally, we have over 30 years of providing recognition and incentive solutions to organizations' employees – all of this is provided by our high-performing online store experience that our clients have come to rely on.
Interested in learning more about how Shumsky Promotional can help your organization. Contact a Shumsky representative today, to learn how we can help you with the perfect promotional solution from idea creation to promotional product fulfillment and distribution.