Shumsky offers comprehensive services to build, launch and manage your online store of branded apparel and gear.
From front end website development and worldwide product sourcing to back end warehousing, distribution, and reporting, Shumsky makes it easy to consolidate every aspect of your corporate program.
Shumsky has stayed true to our core competency of using innovative solutions for the delivery of branded items with the intent of building relationships, communicating a message, and influencing behavior.
Our ecommerce platforms combine retail best practices that everyday users have come to expect from online shopping with business-enhancing elements like logo choices, real-time reporting and analysis tools, integrated fulfillment, and inventory control. To date, Shumsky has provided a seamless online shopping experience for literally hundreds of thousands of shoppers.
Shumsky uses a blend of proprietary technology, acquired resources, and industry-recognized platforms to seamlessly deliver customer service, order management, supplier relations, and reporting.
With our exclusive SpendTracker™ reporting tool, your program information is available on demand. Program spend, inventory reports, order status and more is available at your fingertips. SpendTracker benefits all departments across the organization.
Shumsky offers comprehensive services to build, launch and manage your online store of branded apparel and gear.
What are the benefits to an online store vs. custom ordering?
Control brand identity and compliance

Manage marketing and promotional products from one centralized location

Minimize waste

Manage spending and supplier cost

Benefit from collective buying power

Control inventory

Empower users with simple, automated 24/7 ordering processes

Save time with increased buying efficiency

Integrate with Shumsky Custom Promotions

Email marketing service

PCI DSS Level 1 Certified

Site development and hosting

SpendTracker™ real time reporting

Warehousing and distribution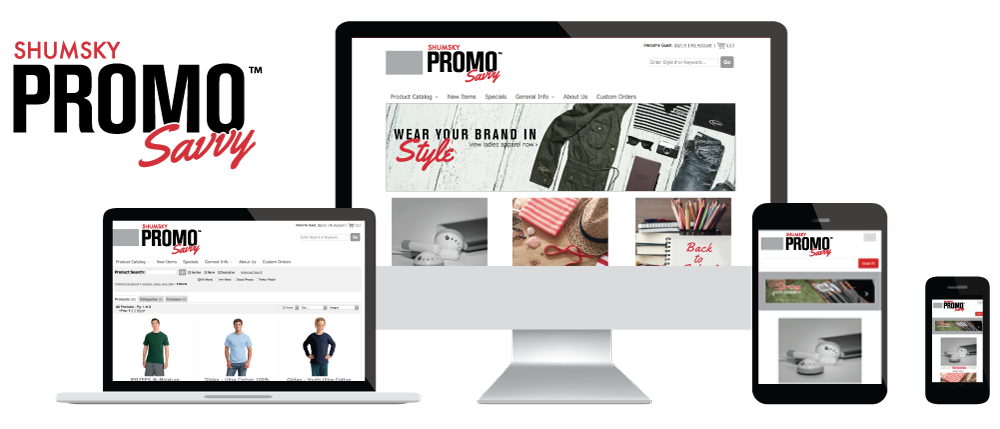 Promo Savvy ™ Online Company Stores offer the look and experience of today's most popular retail sites, are mobile friendly, and provide a full suite of reporting capabilities to successfully manage any program. A company store ensures your branding will be compliant as you offer a wide array of products and manage logos with Promo Savvy's virtual image technology.
Quick Setup in as little as 2 weeks

Choose your products (up to 100+ SKUs)

Mobile Friendly design allows users to connect from PC, Smart Phone or Tablet

24/7 access to one central location for ordering

Retail design and functionality means easy navigation
Users quickly and easily choose from compliant logos

Easy to promote your site successfully with email marketing package

Full suite of reporting to track and measure program success

Flexible pricing dependent on sales volume
Brand Management and Centralized Ordering
A company store ensures your branding will be cohesive across a wide range of products. Take control of your logos using our virtual image technology. With 24/7 access, users can efficiently order compliant branded products for promotional events from one centralized location.
Quick Setup
Your store can be up and running in as little as 2 weeks.
Store Branding
Shumsky will work with you to design a store that aligns with your brand.
Product
Select up to 200+ SKUs to include in your company store based on sales volume. Category pages and multi-level categories will ensure easy navigation.
Choose from thousands of products from our top suppliers

Flexible intuitive navigation

Product Search

Featured Products
No Inventory Commitment
Your program can feature made-to-order items or items stocked in inventory. The choice is yours!
Marketing
Email communications packages help promote new products, seasonal updates and special promotions.
Store Management and Reporting
Full reporting capabilities to track sales, products, categories, shipping, and much more.
Sales and Usage

Inventory Performance

Order Statistics
Payment Methods
We accept payment from the following card providers:
Visa

Discover

MasterCard

American Express
Why Promo Savvy?
Simple Store Solution
60 Years of Industry Experience

Quick Setup Time

Retail Design and Mobile Friendly

Track and Report Program Success
One Time Set-Up Fee* includes:
Store Design and Setup

Photography and Graphic Design for store imagery

Project Management

Web Design
* Earn rebate based on sales volume
Monthly Support Fee includes:
Content Management and Site Maintenance

Site Metrics Reporting

Customer Support

Account Management

SSL Security & PCI Certified

Email Marketing