In-house design made with exceptional creativity, sprinkled with spontaneity, and topped with a bit of ingenious!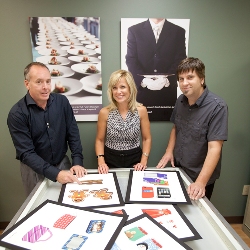 Our in-house creative services team works directly with your account manager on a daily basis to provide the most creative, effective expressions of your brand within your branding guidelines. We believe that it is critically important to develop a trusting partnership relative to creating the marketing for a new campaign.
Our Graphic Design team creates the key elements for all print, product, and online collateral and materials. In addition, our Marketing and IT teams support the development of additional outreach through online marketing and promo-code offerings within online stores.
Ready to start creating the perfect marketing, promotional, or branding strategy?  Contact a Shumsky representative today to see how we can create the perfect campaign solution for you.